COVIE-19 UPDATE: The dining room is closed for inside dining until further notice. Please call the inn at (207) 824-2174 to book our space for a private function.
_______________________________
n is well-known for its fine dining experience. Executive Chef Peter Bodwell joined the staff of the Sudbury Inn in December 2000. Formerly the chef/owner of "Peter's Restaurant" at the Kedarburn Inn
in Waterford, Maine and a Bethel native, Peter brings many years of fine dining kitchen experience to The Sudbury. Chef Bodwell's food is wonderful and he is particularly well known for his outstanding plate presentation.
The Sudbury Inn frequently hosts both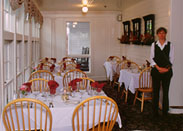 intimate dinners and large parties. Ask about upcoming theme evenings such as wine dinners, jazz nights, or special holiday menus. Both the dining room and the bistro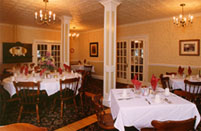 are available for special events and private parties. Just give us a call to discuss your needs.
Summer Hours: Closed
Winter Hours: Closed
For Reservations Call:
(207) 824-2174
Thank you for dining with us!


All our dishes are prepared fresh in our kitchen.
Consuming raw or undercooked foods (such as meats cooked rare or medium rare),
may increase your risk of food borne illness, especially if you have certain medical conditions.