The Sudbury Inn is a 1873 Bethel Maine Bed and Breakfast country inn located in the heart of the beautiful mountain village of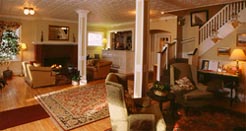 Bethel, Maine. Popular with generations of skiers, hikers, tourists and other visitors for both its accommodations and dining, the inn is the only B&B in town that offers lodging, fine dining, and a lively pub under one roof. The inn welcomes families, offering 7 two bedroom suites and a three bedroom apartment. It is also very pet friendly, welcoming furry guests and their owners in the Carriage House. The Sudbury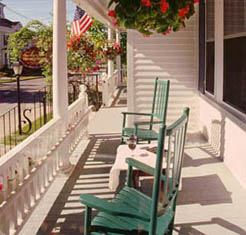 Inn boasts excellent staff, many of whom are "Mainers" and long time residents of Bethel and its environs, and are experts
on what to do and see in the area.
In addition to offering comfortable lodging, the Sudbury Inn has two different choices for dining, as well as offering live music three nights a week. Our AAA-rated Dining Room has delicious food and wine, a warm fire, and a heated porch offering views over historic Main Street, Bethel. In addition we have added a gorgeous bar, chairs and tables, and two large screen TVs. Downstairs it's Suds Pub for pizza, a huge selection of pub grub, and 29 beers on tap featuring the largest selection of New England Beers in Western Maine. We Were Mentioned As "Where To Eat" in Bethel Maine by the New York Times. All our dining areas are casual and kid-friendly.
Thursday night is Hoot Night at Suds, an open mike for any and every musician or musician wannabe. Hoot Night is reputed to be Maine's longest running jam night.
During Ski Season, You'll Get To The Mountain Without Worry. If you are looking for Sunday River lodgings, you can count on us. To get you to and from the mountain with no worries about parking or driving, we offer the Mountain Explorer, a free shuttle service that picks you up and brings you back to our front door every half hour during ski season. The Mountain Explorer takes you to South Ridge Base Lodge at Sunday River, where the new chondola is now in operation.